Where can I find you this weekend daaahling? Well, if you must know, I'll be in Bath!
Omg Bath? Did someone say Bath? Can I take a Bath?… Oh… you mean the town of Bath in England…
As I am sitting in my overly small office on a hot Tuesday morning, I'm dreaming about rooftop pools and cold drinks in Bath, a cute, adorable, snazzy town in England, only a 2-hour train ride away from London. Some would say I'm crazy for flying out to London but not staying in the city. Alas… my best decision ever.
As every year, my sister from another mother and I were planning our trips from London to Vienna and Vienna to London. And you're probably wondering why I'm putting out an article about Bath before going the obvious route and tackling London. Well, you see, London and I have a twisted relationship of me loving and hating it at the same time. I love, love, love to visit my friend and see the sights but the city is too big, crowded and chaotic for me. But more about that later on (because an article on London IS coming). So, as we were planning our trips back and forth, Ioana was saying we should do something different this time around and leave the city. Have a quiet, relaxing weekend somewhere to chill and rest. And that's what we did.
I took my usual plane to Heathrow (Austrian, I see you, every flight with you is cool and I think it's the best connexion to the city) on a Thursday and got there late in the evening. After the usual two hours on the subway (why London, why?), we got to Ioana's place, had some dinner and it was off to bed.
We opted to take a bus to Bath the following morning and return by train. Of course, it took us over an hour to actually leave London and then the highway was overcrowded. I swear to you, that city is nuts. It's an adventure to get from one part to the other via public transportation. So it was off to Victoria Coach Station and from there, off to Bath. Three and a half hours later (yes, three:))) we were in Jane Austen heaven. It's actualy so nice to see the countryside and the architecture on your way there so maybe take the bus to Bath and just return by train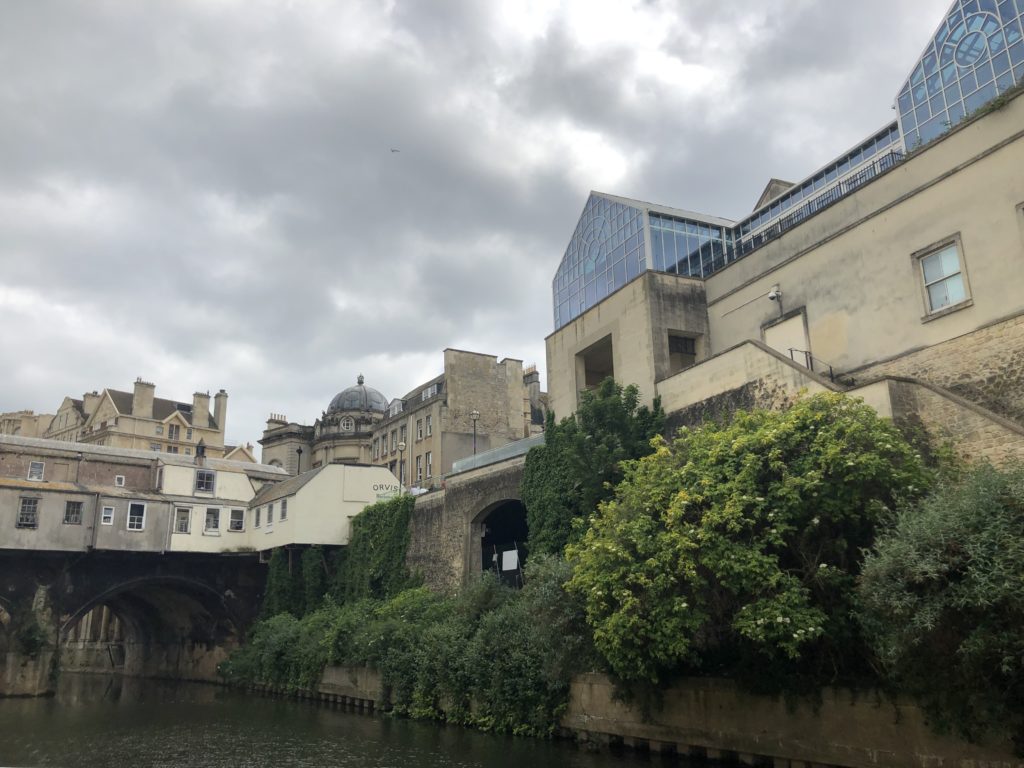 Where to sleep: we rented out this adorable AirBnB at the top of the hill, right next to the city center and it was lovely. I would maybe recommend an air conditioned accommodation in summer because housing tends to be on the small side over there but we had normal temperatures and it was enough to open all the windows. Seriously, we had the best view from our room and I actually think AirBnB was a better decision than a hotel this time around. You know I'm sometimes skeptical when it comes to new things like Uber or AirBnB, last minute vacation pages and other stuff but I'm slowly getting into it and you can find amazing deals online if you want to save some money. We paid 130 EUR/person for 2 nights in Bath, a bus and a train ride. It's such a bargain and it was worth every penny. I know it may seem like such a drag to get there but it's actually quite simple. Take a plane to London, and from there you will find hourly options to get to Bath. The same way with Edinburgh, where there's a will, there's a way.
But let's dive in. What to do in Bath?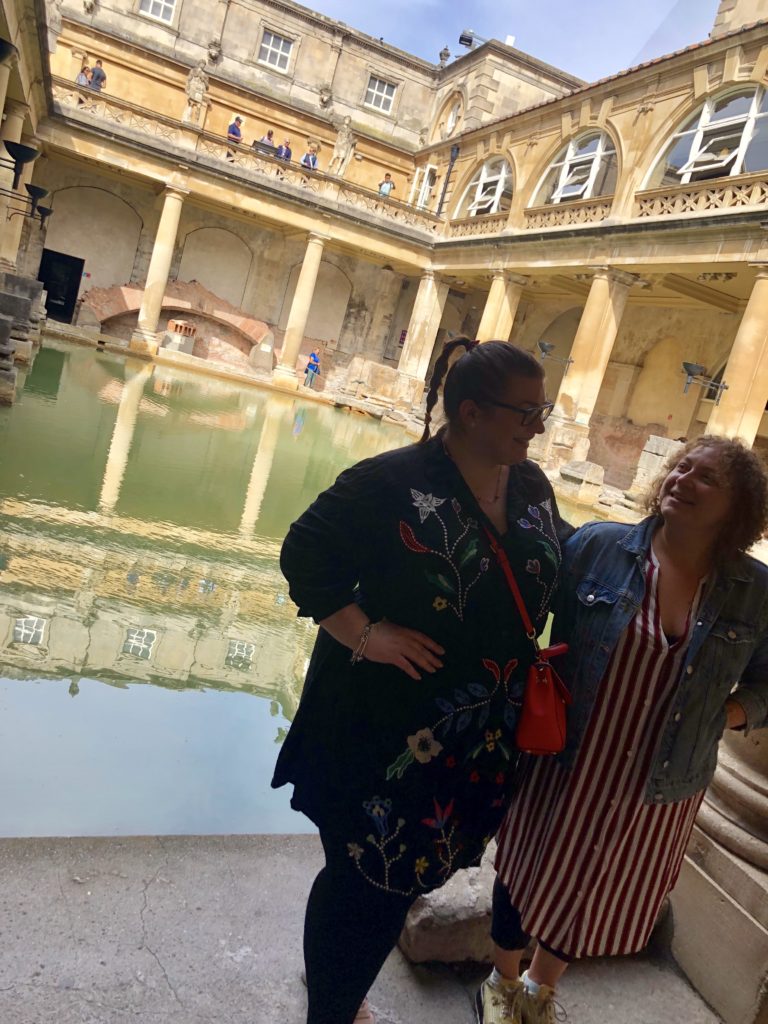 Visit the Roman Baths. A well-preserved Roman site once used for public bathing, these baths take you on a historical journey and show you just how evolved the day-to-day life was in the Roman Empire. Grooming was of utmost importance and people took great care with their personal hygiene. Fast forward to Versailles…yuuck. The Baths are definitely worth a visit and you can even get cute souvenirs on your way out.
Have tea and scones in the Pump Room. Right next to the Roman Baths, you have the Pump Room, one of the most stylish restaurants in Bath. While dinner might be a little bit of a stretch there you can easily enjoy some tea and scones after visiting. You can mix and match sweet and salty treats and decide how much you want to pay, the menu is not fixed. The space has a ballroom vibe to it and takes you back in time. I myself am a hopeless romantic and enjoy such things so you know…think about it.
Take a boat ride on the river. Now I'm curious to know, do you like people watching? Looking at how others live? I do, I really enjoy it. Taking one of the boats from under the bridge by the cathedral, the bridge that sort of looks like the Ponte Vecchio in Florence, was our best idea ever. It's calming, you get to see soo much of the local flora and fauna and see the nice houses on the river. The boat takes you to the next town where you can stop at the local pub and take the next boat back into Bath. It's a lovely way to spend the afternoon.
Book a SPA session. I'm sorry to say I only have the flyer I managed to steal from the SPA but sadly, we were not allowed to take pics during our time there. I was treated to two hours in the spa by my friend as an early bday gift and we had a lovely time. I would recommend Thermae Bath Spa, it's right in the city center, one minute away from the Roman Baths and it has the most amazing rooftop pool with a view. We actually got a minor sunburn while up there but it was worth it. Small advice: either book your stay in advance or be there early or else you have to stand in line for hours. We paid 20 extra pounds per person to skip the line so it's a little expensive.
Bath is a tiny town to beginn with so just go out and enjoy the feel of it. After 6 o'clock in the evening, shops close and it's hard to find stuff to do so get your pasties and food in before everything closes. You have open restaurants and pubs, sure, but the town seems somewhat deserted all of a sudden. It was good for us, we had time to catch up and relax, but if you're looking for a huge party, you won't find it in Bath. What you can do though, is shop. They have a decent selection of known shops and small, adorable boutiques so get to it.
Take the cultural route. We didn't have time for museums while there but if you stay for more than 2 days, be a culture vulture. You can visit the Holburne Museum, the Fashion Museum or the Jane Austen Centre and book an Austen tour with one of the local guides.
By the way, the trip back to the city by train only lasts 1,5 hours so yeah maybe take the train back, not the bus. Two bus rides are one too many.
EAT. Not kidding, there's so much to try out. Cornish pasties filled with meat, cheese, veggies and all that, cakes, scones, donuts and many more yummy treats. What I want to point out though:
Jars Meze: a Greek restaurant to die for. I had the most amazing Moussaka I've tasted in my life, good prices, a cute place and lovely service. It's on a narrow street in the city center: 6 Northumberland.
Amarone: an Italian place next to the SPA, they serve the most amazing appetizer platter for two: for 20 pounds you get a variety of antipasti, grilled meat, bruschetta, amaretto melon pieces and two Aperol Spritz. That's only 10 pounds/person, which is an amazing deal in England: Beau Nash House.
Krispy Kreme: you know how Kim K swears by donuts from Krispy Kreme? I was sure she was full of it but guess what? They are the best I've tasted in my life. Worth a trip to their shop: 9 Southgate St.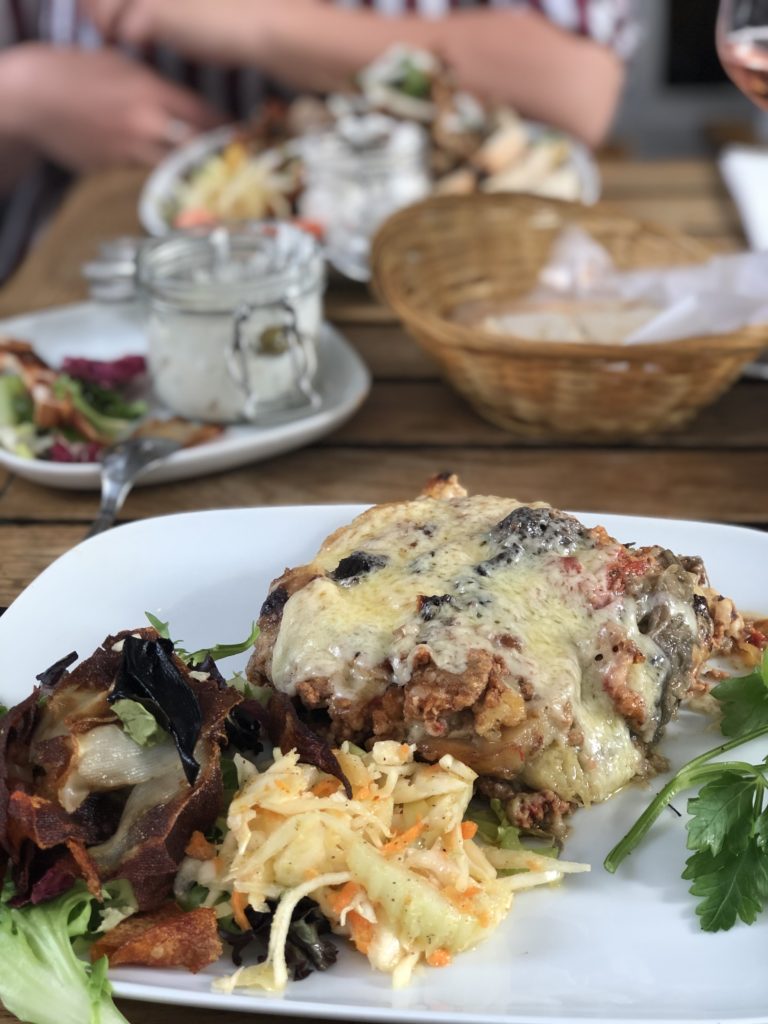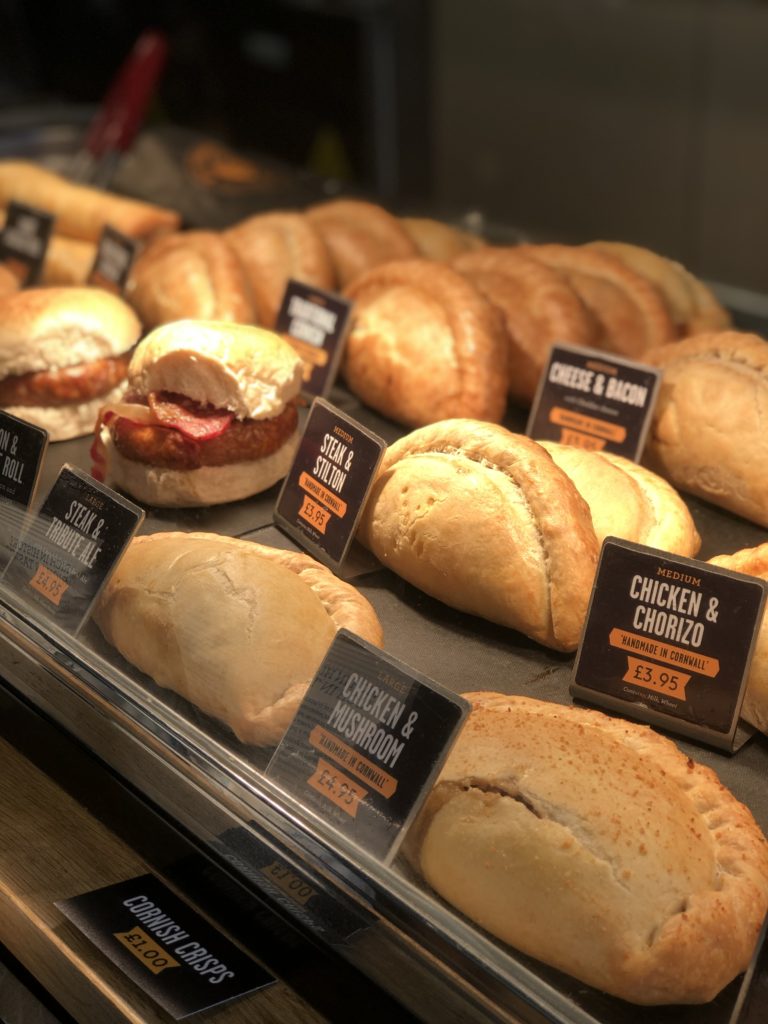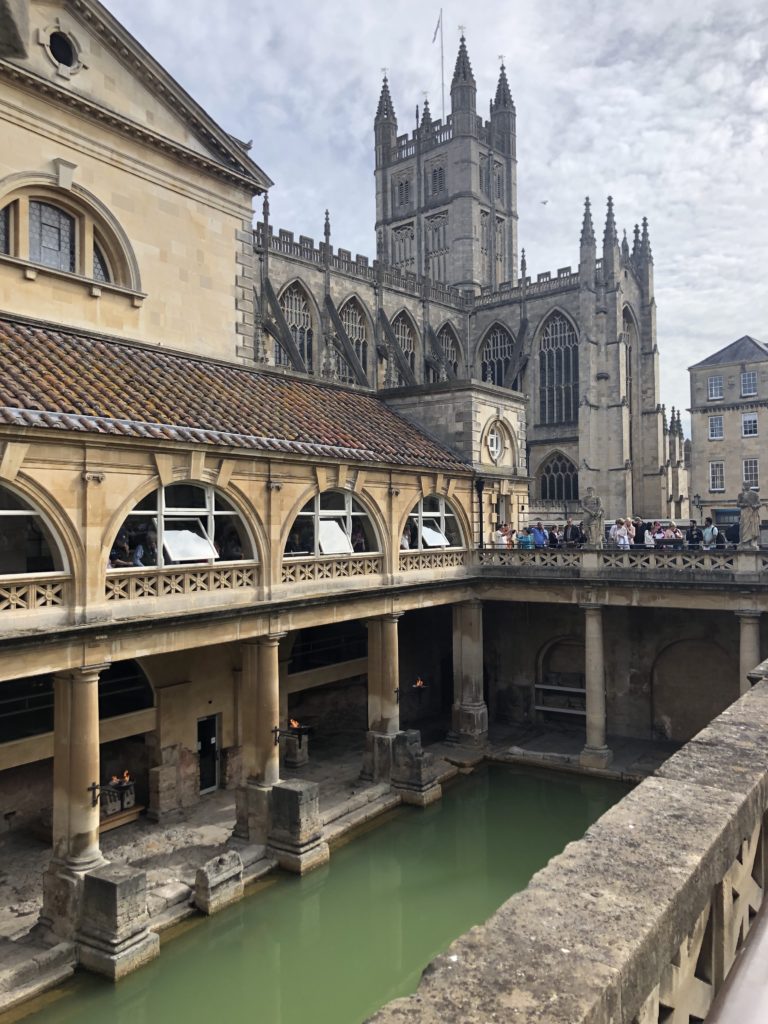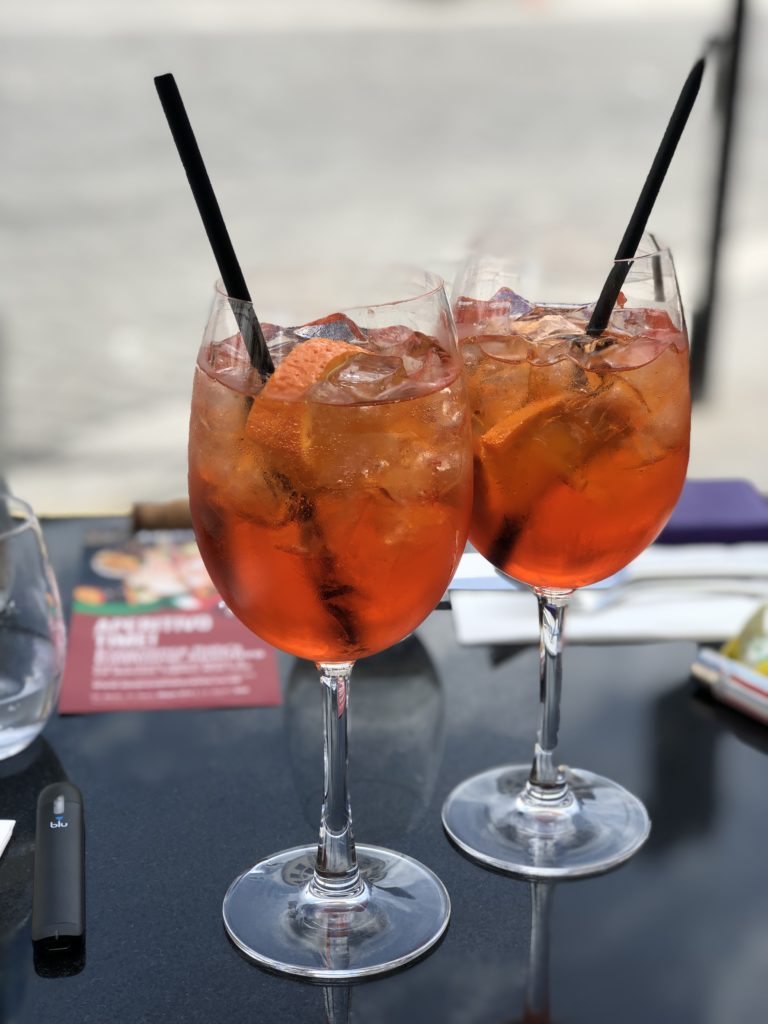 DON'T FORGET:
You need a plug adapter for the UK.
You have separate pipes for cold and warm water so that takes some getting used to.
The toilet situation can be awkward, some appartments don't have a window or a ventilation in the bathroom.
Driving is on the left side so always check the markings on the floor when you cross the street.
All in all it was a lovely experience and I would go back in a heartbeat. It's all about travel this summer and the reason why I'm showing you some lesser known places to visit is being able to have variety. Not everybody wants to book places that are trending and overcrowded this summer. And if you enjoy some normal temperatures, this could be a good idea for you.
For me, travel is what keeps me going every week. Booking a new trip gives me the energy to keep on going and I don't know if some of you have felt it but for me, being able to see something completely different is the best way to just relax. I know priorities in life are different for everybody but sometimes you need a break. So think about it. If you need extra tips, you know where to find me. Kisses.