Kalispéra, Athína!
Greece, love of my life, how I've missed you. I think by now everybody knows how much I adore this country. And it's been a while for me, especially since I've been to Athens last time. My dear friend had the amazing idea to fly out to Athens for our city break and I'm glad we did it. It was such a rich and emotional trip for me, going back after almost 20 years and seing it from a different perspective. It has changed so much but then again, not really… so let's get started.
We got there during the day (thank god) by taking the Metro from the airport – it only costs 10 eur/trip – and bam, we were in the city, one station away from Monastiraki. The first thing you see? The Acropolis up on the hill and a bunch of ruins. You immediately feel the pulse of the city and get into the holiday feeling.
Now I just have to say, Greece has been through some horrowing economic changes over the last 12 years and everything has left it's mark on the country. You literally have buildings in ruins next to amazing new ones and think: OMG, where am I? But don't get scared, it's not dangerous and you are one street away from the beauty that is Old Athens. You can see the people rising from the ashes again, see the work they are putting into restoring the city to its former glory and to me, that is everything. I remember vividly walking those streets years ago, the majestic shops and the amazing food. Everything is still there, stretching its wings like a phoenix and pushing to get back to those days (I'm soo poetic today).
Our Hotel: O&B Athens Boutique Hotel – 4****. It was a lovely choice for us. Near the city center, 5 minutes away from Monastiraki by foot, on a calm, quiet street with superb service, a delicious breakfast, lovely people and the best receptionist you can find. Can you imagine us paying only 250 EUR for 3 nights? Flight, hotel and breakfast and I am NOT kidding. The key is knowing when to book and where to look. The best thing was being able to stay up after 12 and still walk to the hotel without any trouble on the street, without being afraid.
And that's the beauty of Athens. You don't need any public transportation, everything is within walking distance, even the old stadion. I mean to get to the Acropolis, you have to walk,there's no other option. And everything else is doable in comparison to that (but more about that in a minute). You save quite a few Euros by skipping buses.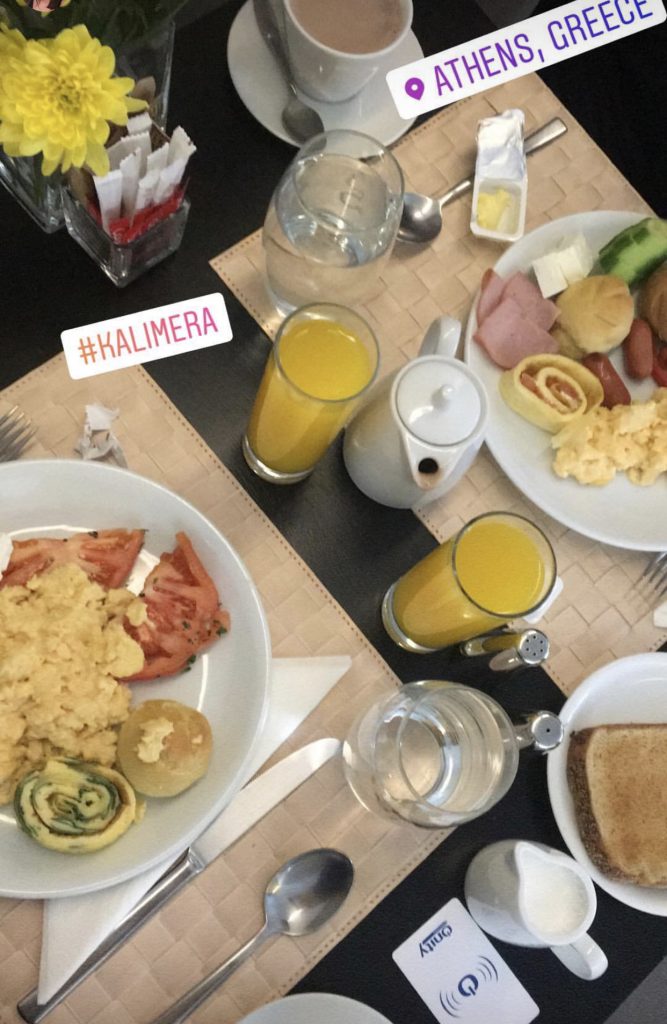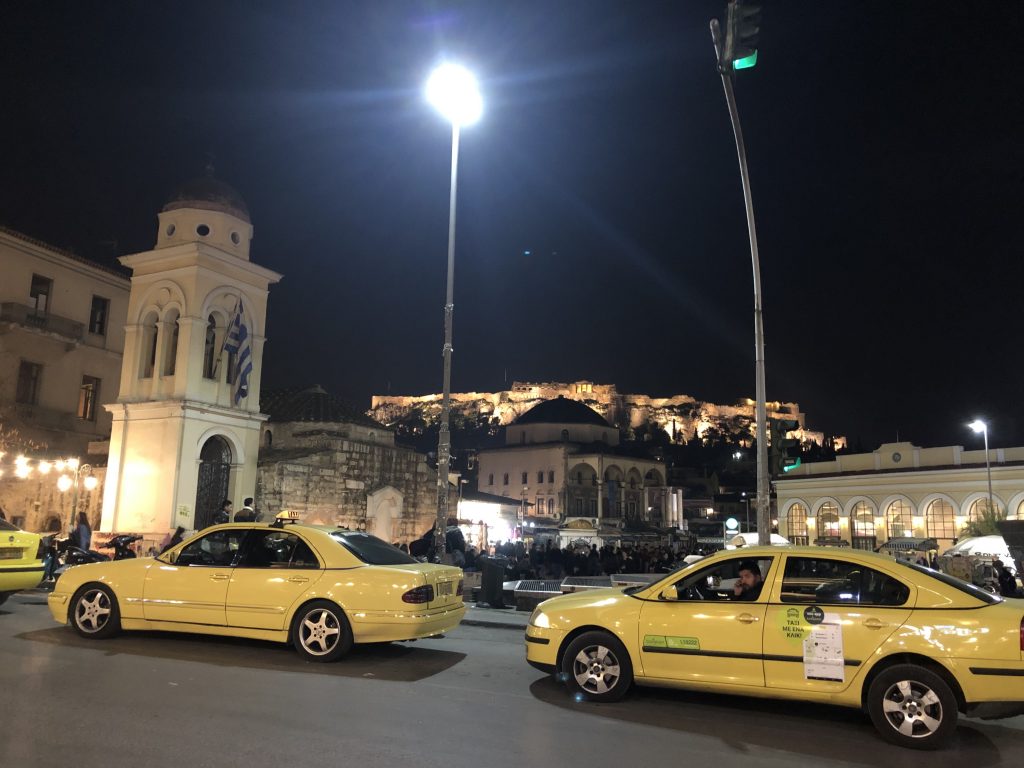 Soo, what to see in Athens? This will be a list containing not only what we've seen this time, but what I saw last time I was there.
The Acropolis – well duh, it's the first thing everyboy wants to see. This was my Everest, not kidding. Being in no shape at all, I was sure I wouldn't get up there. But what do you know? I aced it. The key is to stop along the way and enjoy the scenery. You start at Monastiraki, through Plaka and go up the hill slowly. That's the hardest part. Then you get to the entrance.
TIP – There is a hill right next to the lower entrance, go up the stairs and start taking pictures. It's a good place to take snaps of the city and the Acropolis from a decent distance.
Greece was the first real vacation I had with my parents back in 1999. Seing all that beauty as a child, it stays with you. Even now, after so many years, I remember what I wore the day we climbed up there, how my dad sat me down on a rock to explain what I was experiencing. And even today, walking through that stone gate at the entrance, it shot me back in time to sunny days with them. Btw, the Parthenon might be the tourist favorite, but don't forget to read about the Erechtheion and the Caryatids as well. Drink lots of water and take care while climbing, it can get slippery.
One last thing, once you're inside the gates at the bottom of the hill, you won't feel the ascent, there's so much to see everywhere that you just walk and walk and suddenly you're at the foot of the stairs that lead to the entrance.
Plaka – one of the world's oldest neighbourhoods, it is really the heart of Athens. It's a maze of cute streets full of shops and restaurants. You can get some great souvenirs and some amazing jewelry there. Just take a walk through it and feel the vibe of the place. If you see an old greek restaurant, believe me when I say: GO IN! Tourist traps are everywhere but Plaka has some trustworthy hidden gems.
TIP – Take care with your bag, Plaka is still up and coming, not yet back to its former glory so take care with thieves. And if you are looking for something cute to buy, buy an Evil Eye bracelet. The legend sais it protects you from evil. So never take it off. And if it breaks, it means you were protected, so don't repair it, throw it away!
National Archeology Museum – for me, this is the ultimate museum when it comes to history. Where else can you find such original antiquities, if not in Athens? It's an amazing way to teach your children about Greek civilization and the way of the Gods.
TIP – it can get pretty stuffy inside so start your day here when it's not that warm outside.
Panathenaic Stadium – the birthplace of the modern Olympic Games, it is built on the site of the old stadium from 330 BC and is the only stadium made entirely out of marble. You walk down the Acropolis to the Acropolis Museum and take the route to the Temple of Zeus (also worth a quick visit and some pictures). From there, it's 5 minutes walking distance. A truly amazing spot, full of history, it's a nice change from the ruins and from there you just cross the street to the gardens.
TIP – try out the stadium floor, try running, it's a soft material, great for kids if they want to play. Oh, and take a quick pic on the podium:)
The National Gardens – fresh off a major upgrade, the garden boasts some amazing flora and is so relaxing after walking through the city all day long. Leading right to the Syntagma Square on the other side, you can chill by a pond, play with goats and enjoy the silence in the heart of Athens.
TIP – don't feed the animals! :))
Syntagma Square and Ermou Street – the actual city center, it boasts the Royal Palace with the changing of the guard. I would definitely take a look at it and make my way down Ermou Street to do some shopping. They have nice shops, a big Sephora with a lovely selection, an Ulla Popken store for some plus sized shopping and all the usual shops you might want.
TIP – again, take care with your belongings and don't forget to look around you. There are small, orthodox churches everywhere and a cute selection of cafes.
Day trip to Cape Sounion and the Temple of Poseidon – a great way to spend the day at the beach and take in some history, you can book a day trip directly from the hotel and enjoy an amazing sunset after a day of chilling in the sand.
Port of Piraeus – the biggest port in Greece and one of the oldest and biggest in Europe, Piraeus has a special place in my heart. Years ago, we used to drive to Greece and take a ferry to the islands. I've seen Piraeus in all its glory by day and by night. You have an old, historical part where you can visit and eat and just take in the scenery or you can go and see the big cruise ships in the port.
Lycabettus Hill – THE hill in Athens, you can take a cable car up to the top and have the most beautiful view possible of Athens and the sea. For those who are fit (NOT me), you can take the path up to the small chruch and the expensive but delicious restaurant and spend a quiet night farther away from all the tourists.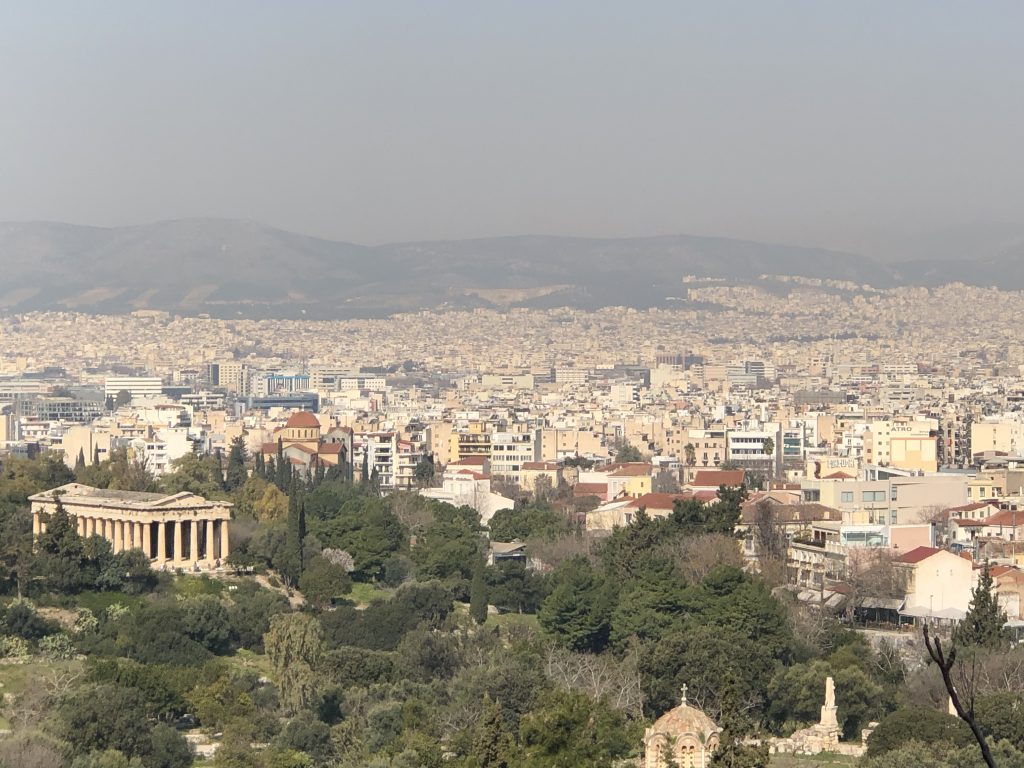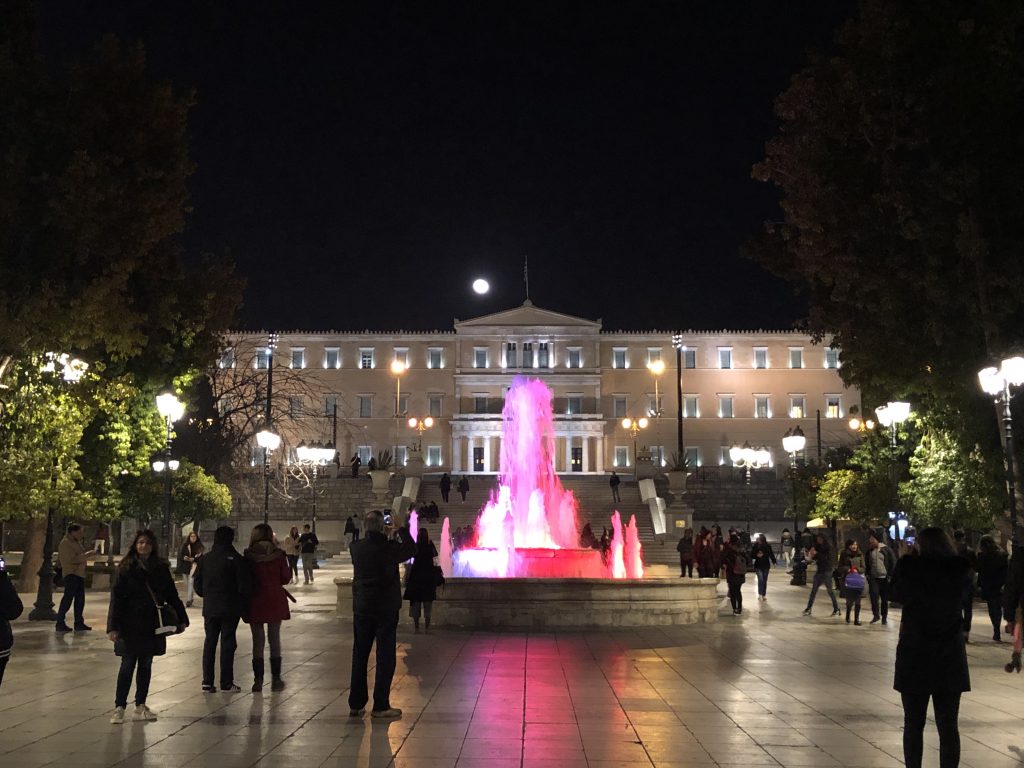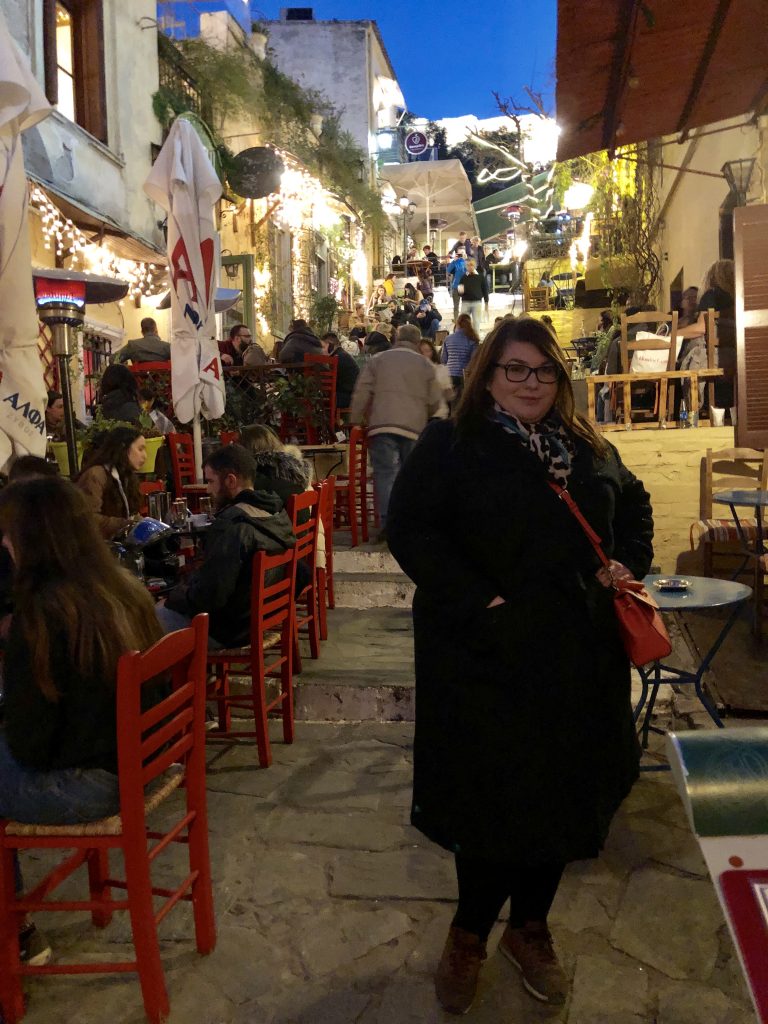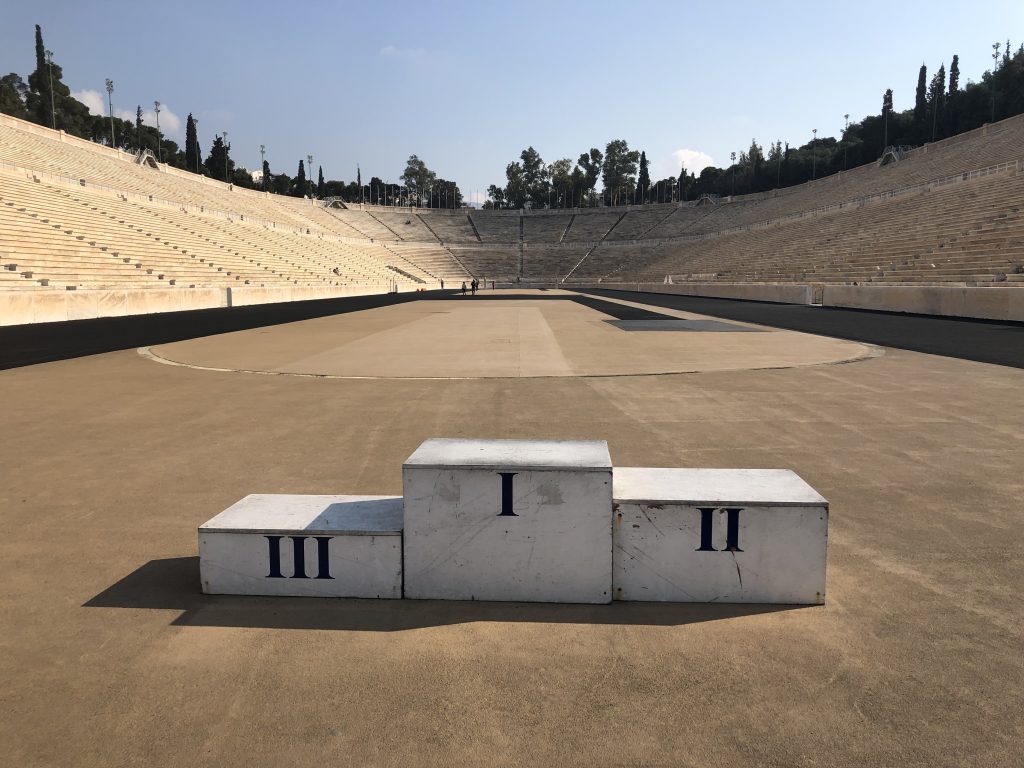 I feel like I've written so much today but here you have it, a small tour of the city. There is so much more to see, so many museums to explore and streets to walk. But I think booking 4 or 5 days would be best for you. We only booked 3,5 days and it wasn't enough. Also, don't go visiting in the middle of summer, it's too hot and most of the country is lounging on the beach. Eat traditional food (gyros, saganaki, lamb chops, souvlaki, rice pudding, baklava, honey sponge cake, salads and froyo) and enjoy a live band in one of the many taverns. I've said it a million times before, if you travel don't run from one point to the other without looking around, take the time to enjoy the feel of the city and relax. If you need more tips from me, let me know, I'm happy to help. Have fun and you know, kisses darlings.