Oh Wien, nur du allein! It's so hard for me to convey everything about Vienna in one single post because this beautiful, amazing city is my second home, the place I grew up in as an individual, the place that has made me laugh, cry, love, miss, conquer, persevere and mature and I can't even begin to do it justice by writing a few words here and there. One post just wouldn't do. So I decided to start a series of blog posts about places I go back to time and again in this beautiful city, a city I love dearly. Against all odds, I am going to start with this newish place in town we've just been to for my birthday. Believe me, I will be doing lists of the best touristic places to visit, the best restaurants and all that jazz but I feel like I want to start with this right here, having had such a beautiful evening there with my boyfriend. He often says I don't smile enough anymore and that life is hitting me hard at the moment, but I want to tell him and all of you, that evening was so good, I couldn't stop smiling.
But back to the essence of this post, Jamie's Italian Vienna Downtown. I had heard of them through a blogger I follow on Instagram, the Viennese Girl and it immediately struck me as my kind of place but we kept putting it off and you know how it goes, time flies by. But we finally got there and I have to say, with Jamie it's hit and miss for me… I love his airport bistros in the UK, don't like the one in Vienna so I went in without expectations… and do you know what I loved the most? Apart from the delicious food?
THE VIBE. Not overly crowded, a nice staff and good service, yummy food, a nice garden outside and good prices. They make you feel welcome, they don't try to rush you after the meal is done and they really try figuring out your type before recommending something.
We took a seat inside because I wanted to really see the place. It has a big bar right at the entrance and a lot of seating space, upstairs as well as downstairs. I went to the bathroom (very, very clean btw) and couldn't resist sneaking in a peek at the extra space they offer for events. I loved it. You'll see from the pictures, it has a kind of oldschool Italian coffee place vibe to it but the tables are sturdy and the seating very comfortable. I looove the green, big leather couches and the homey decor.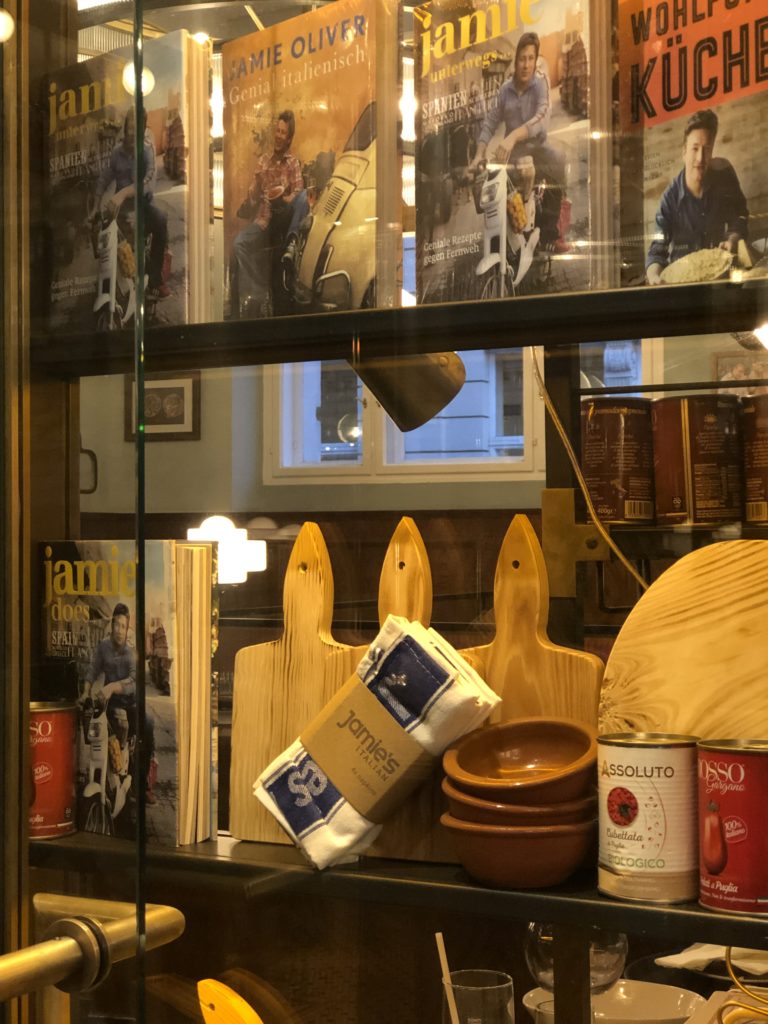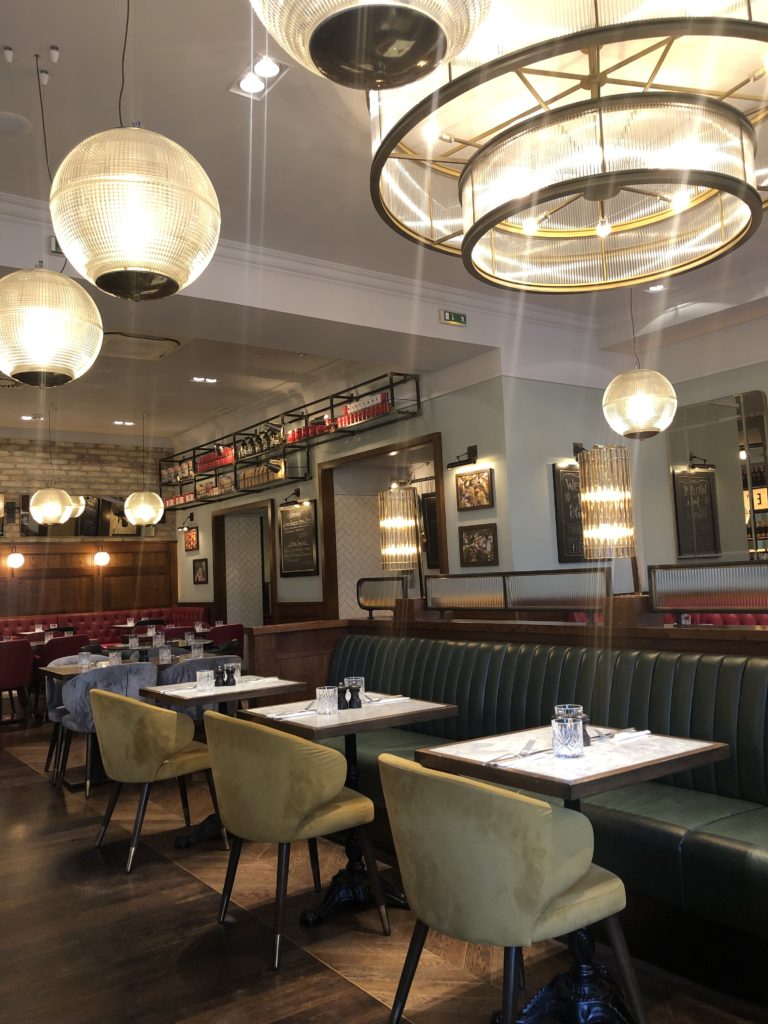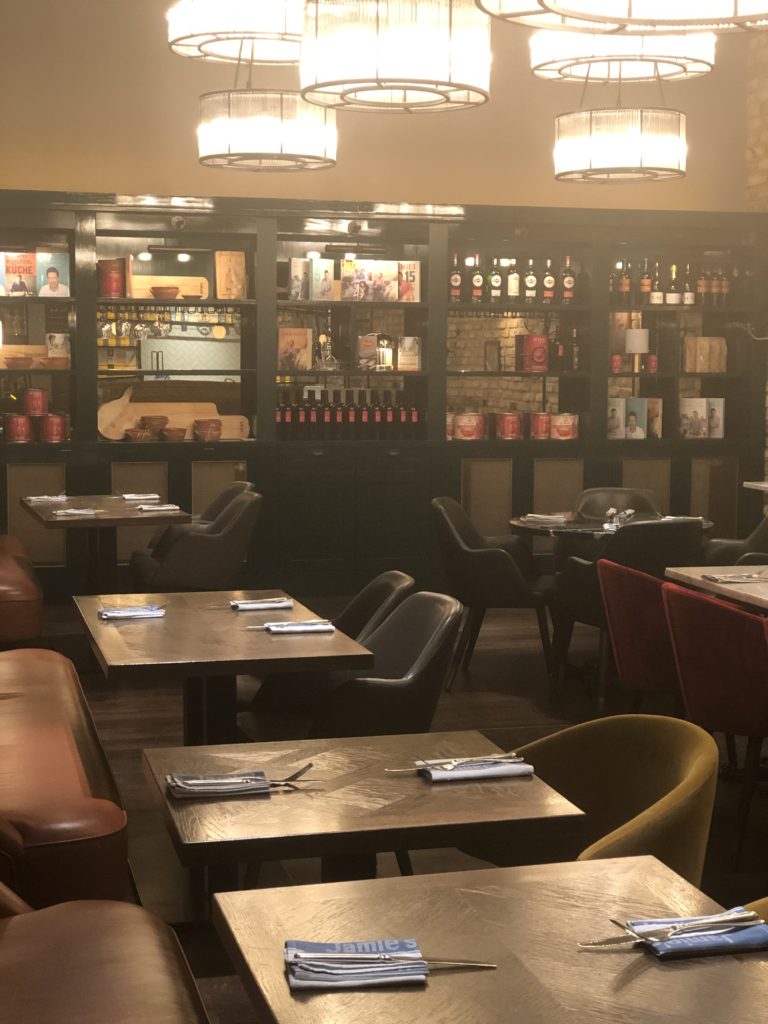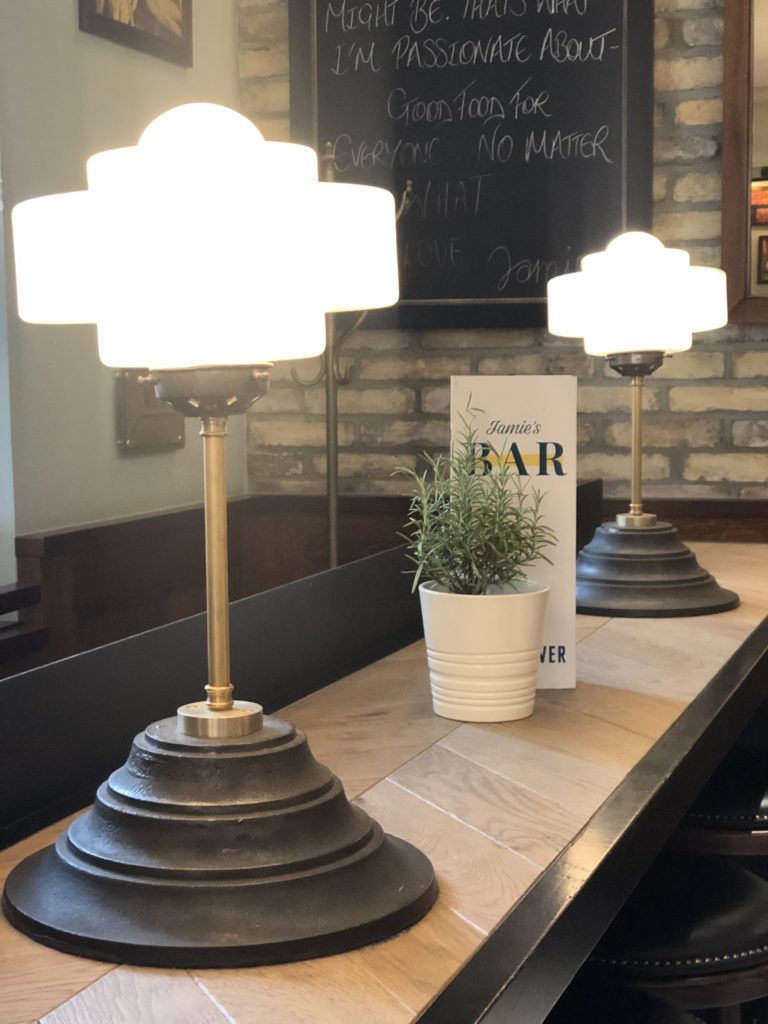 Now let's dig into it, the food. The yummy food. They have a nice, rounded out menu with starters, main courses, salads, 3 Austrian dishes and homemade pasta. While I was tempted to go for the Schnitzel or some pasta, I decided to go for something else, a burger.
Starters:
The mister had the most delicious Bruschetta ever, nothing I had seen before, with a tomato and cheese paste on top and a sturdy piece of toasted bread to round it up. Heaven – TOMATO & RICOTTA BRUSCHETTA
I chose the fried squid, tender, fresh and deliriously delicious, paired with a garlic sauce and lemons – BUTTERMILK SQUID
Main course:
Monsieur went the fishy route with some black spaghetti with salmone (yummy, although I'm not a big fan of fish) – SMOKED SALMON SPAGHETTI NERO
And I went all out with my delicious burger. Now to be blunt, I am not a fan of burgers anymore. I've had so many of them, some better and some worse and it's not worth the hassle anymore to pick and miss yet again but something told me: go for it. We do burgers at our restaurant in Romania and my dad has this thing about sauces, he really goes all out to find the perfect one to drench the burger in. Now most people feel it overpowers the taste of the meat but I find it completes a taste. If the meat is of good quality, a sauce has to give the burger that specific touch. And that's what Jamie has done with this burger. I didn't eat it, I inhaled it. A quality beef patty enveloped in a fluffy bun, with caramelised onions and a rich sauce to get the job done. Mm, mm, mm my mouth is still watering when I think about it – THE JAMIE'S ITALIAN BURGER
Dessert:
I rarely see a dessert menu that captivates me. I'm such a chocolate fiend, I've seen it all (not really but I work hard to get there:))) But this menu intrigued me, they serve some cool stuff. I had an EPIC CHOCOLATE BROWNIE with caramelised popcorn on top and ice cream. I mean… heaven. And the mister had an APPLE & BLACKBERRY PAVLOVA which was to die for. But I think whatever you pick from the dessert menu will strike your fancy because everything sounds delicious.
And all produce was fresh, everything was prepared on the spot, you could taste it immediately.
The only minus? I ordered a homemade iced tea and it was too sweet and too sour at the same time.
The total price? Three dishes/person, a Hugo, an iced tea and mineral water – 90,00 EUR without the tip. I think that is a very decent price for the quality and the quantity we got served.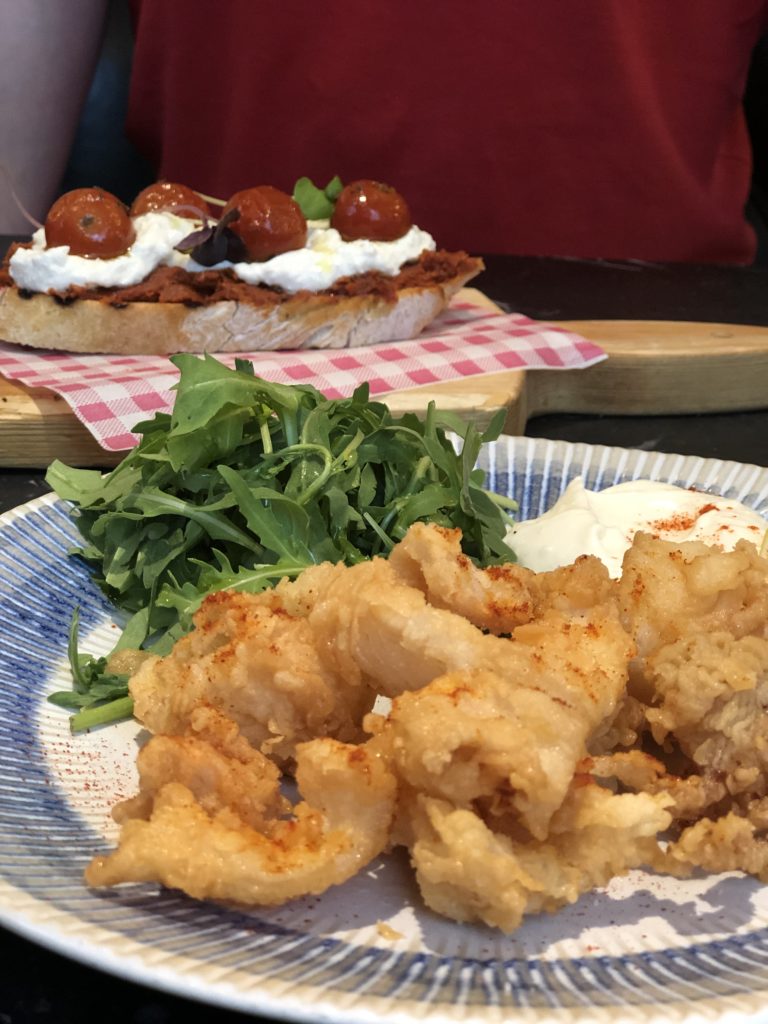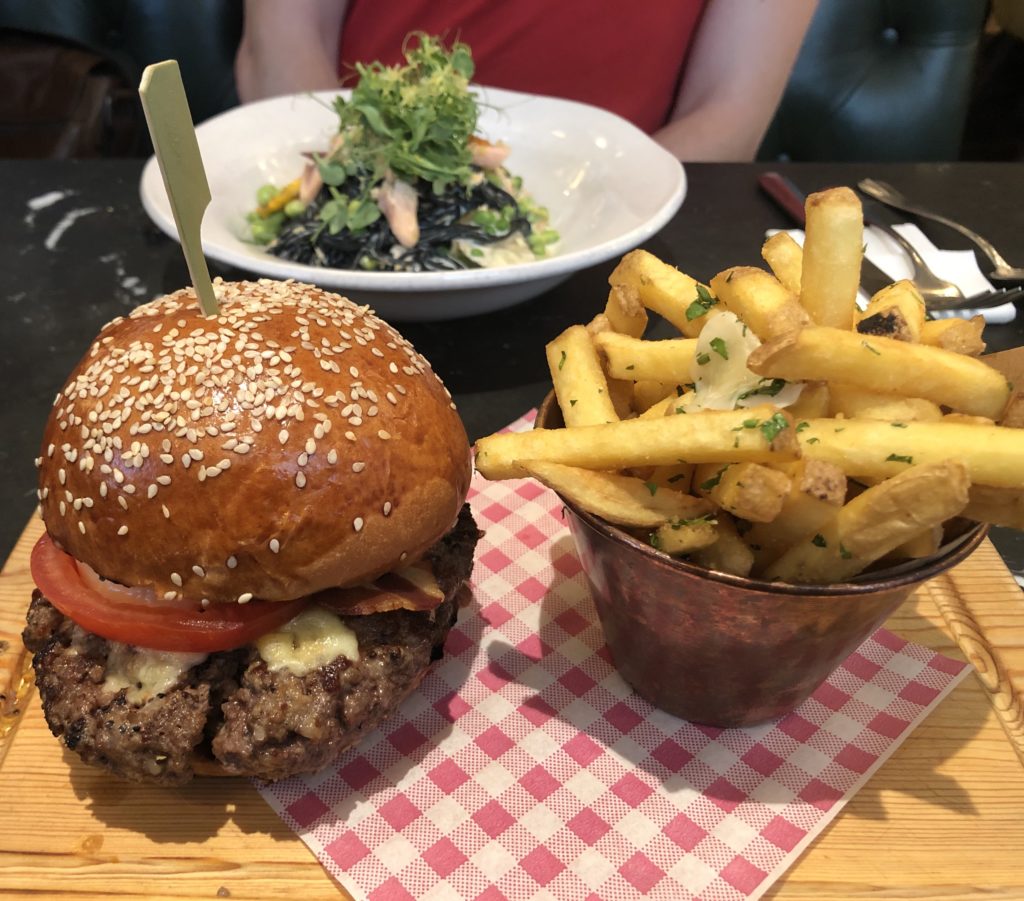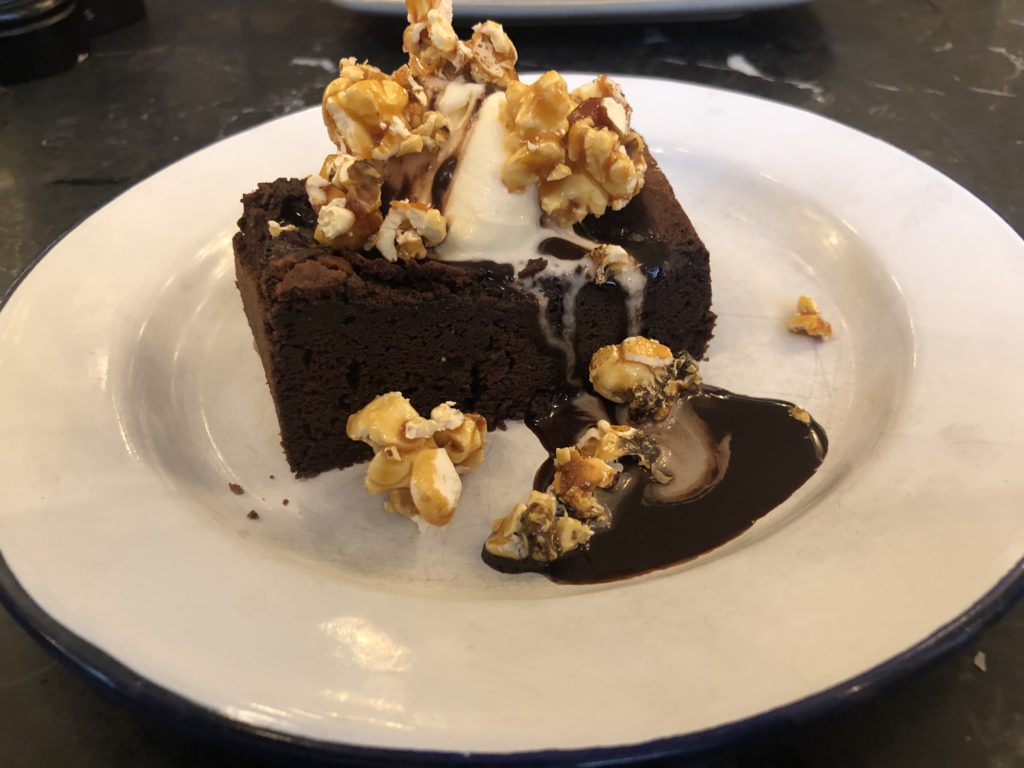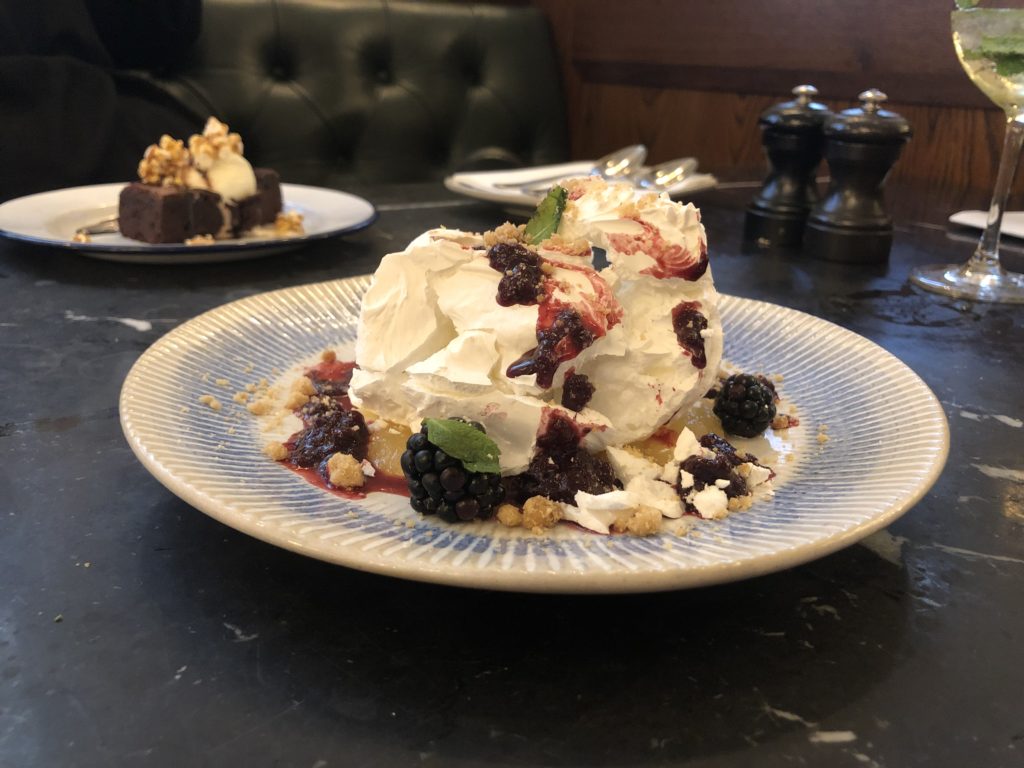 TIP: Oh and here's the thing with tipping in Austria, please do it. I used to work in a bar a couple of years back and we got paid shit money. We lived off of tips and they are not included in the bill. So next time when you're visiting, think about those 10% and make somebody happy that day.
All in all, a very nice evening and a delicious meal. We'll be back for sure! And remember, don't be quick to judge a location, mistakes can and will happen. Be understanding and kind to the staff! Kisses darlings, more will follow! Xoxo