I am a southern girl, born and raised in Romania. I feel right at home in Greece, Spain and of course Italy. While Greece as a whole, has my heart, I adore some of the Italian cities more than anything and everytime I get to travel back to them, I feel at peace. One of my favorite cities in Italy is Florence. The capital of Tuscany, the birthplace of the Renaissance and home to the magnificent Medici family and Machiavelli, Firenze combines a small town charm with the culture, energy and opportunity of bigger cities around Europe. I mean museums, architecture, food, shopping, wine and ambience. This city…it has an energy, a vibe to it…you need to love it.
I spent 6 days in Florence with a childhood friend of mine and we had the best of times. 6 days means visiting, taking a look at Tuscany and actually relaxing. We booked a cute hotel in the Inner City, with a lovely breakfast and access to all cultural attractions. You can take a cab from the airport to the city, it costs 20 EUR and I actually recommend it because they don't have a Metro or buses in the center so you have to carry your luggage from the main station through small cobblestoned streets and it's difficult. If you opt for a hotel outside of the Old Town, it's a different story. But I would actually plan a trip around a budget in March or October in order to get one of the hotels in the Inner City. It's just different, you can feel the city around you better and get into the spirit.
My hotel recommendations for you:
Hotel De la Ville 4****
Grand Hotel Baglioni 4****
Boutique B&B Torre de' Conti
And so we got to Florence, had a quick nap and went out to explore the city…and stopped 400 meters from our hotel to have a glass of wine! And then we went exploring. Here are my main tips for you:
The Duomo and the Baptistery – no further explanations needed, you need to see it. Like the Sagrada Familia in Barcelona, the Duomo is beautiful, different, has character.
Uffizi Gallery – Botticelli's "Birth of Venus" is a must-see and from the first floor you have a lovely view of the Ponte Vecchio. Also, have a coffee on the terrace if you have the time. And maybe book tickets in advance, that way you don't have to wait in line so much.
Galleria dell'Accademia – Michelangelo's "David" is on display. My oh my, one of the best known sculptures in the world for everybody to see.
Ponte Vecchio – has a stunning view but is actually more beautiful to look at from the outside. On the bridge, you have endless goldsmiths with jewelry to die for and prices to match. If you are looking for your next gold purchase, either bargain with them or look for your business elsewhere because prices are out of this world.
Palazzo Pitti with the Boboli Gardens and the Bargello Museum – are just a walk away over the Ponte Vecchio, on the other side of the river Arno. You can also enjoy the nice restaurants on the way there.
Piazza della Signoria and the Palazzo Vecchio – architecture and museums notwithstanding, take a stroll through the Piazza in the evening, enjoy a glass of wine and be inspired by the street singers and their talent. You can sit on the steps of the Galleria and let the music soothe your soul.
You MUST MUST MUST book a daytrip to Tuscany with an included wine tasting. I would recommend Montepulciano and Montalcino, the scenery is breathtaking and the wine is yummy. You can book cheaper tickets at a booth in front of the Santa Maria Novella church, prices are better there. Chianti is beautiful as well but Montepulciano and Montalcino are up in the mountains so you get a wonderful view from above. It really depends on your preference for white or red wine (pick the red one:)).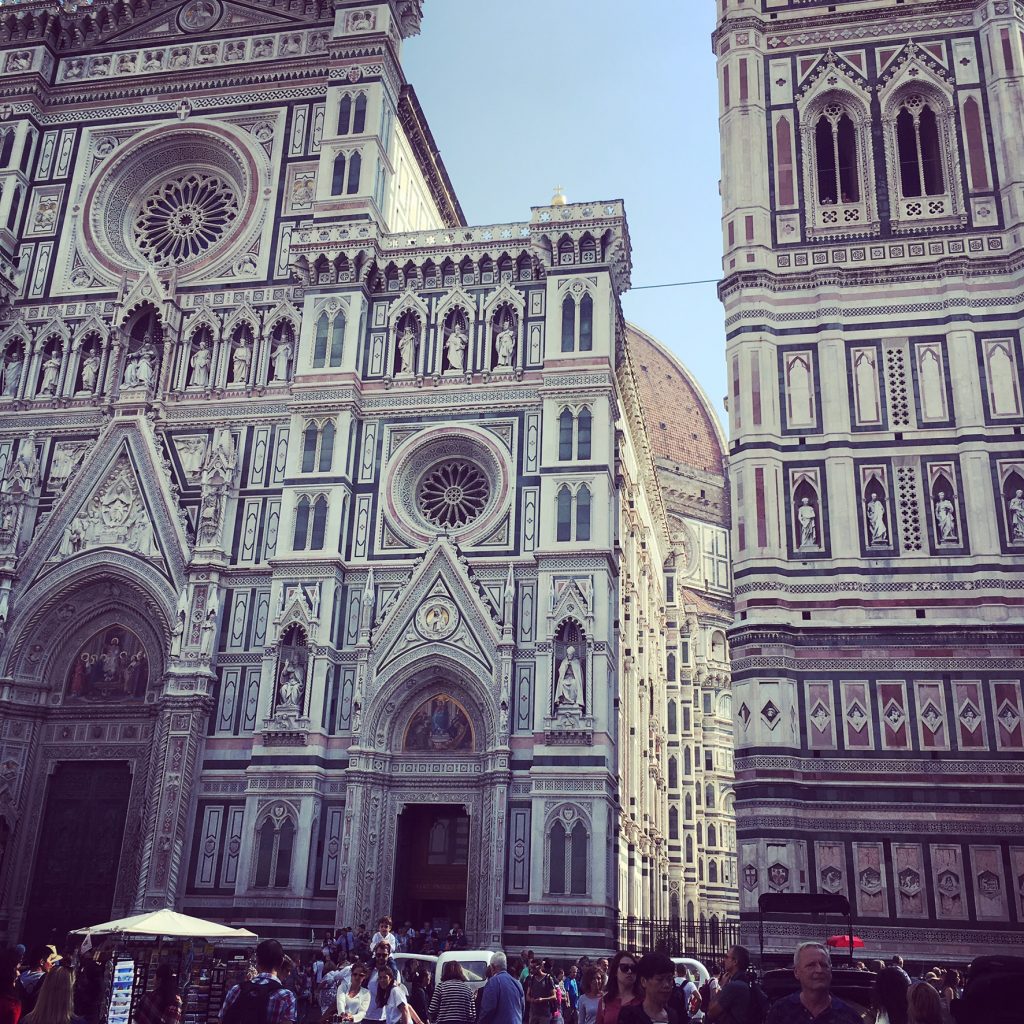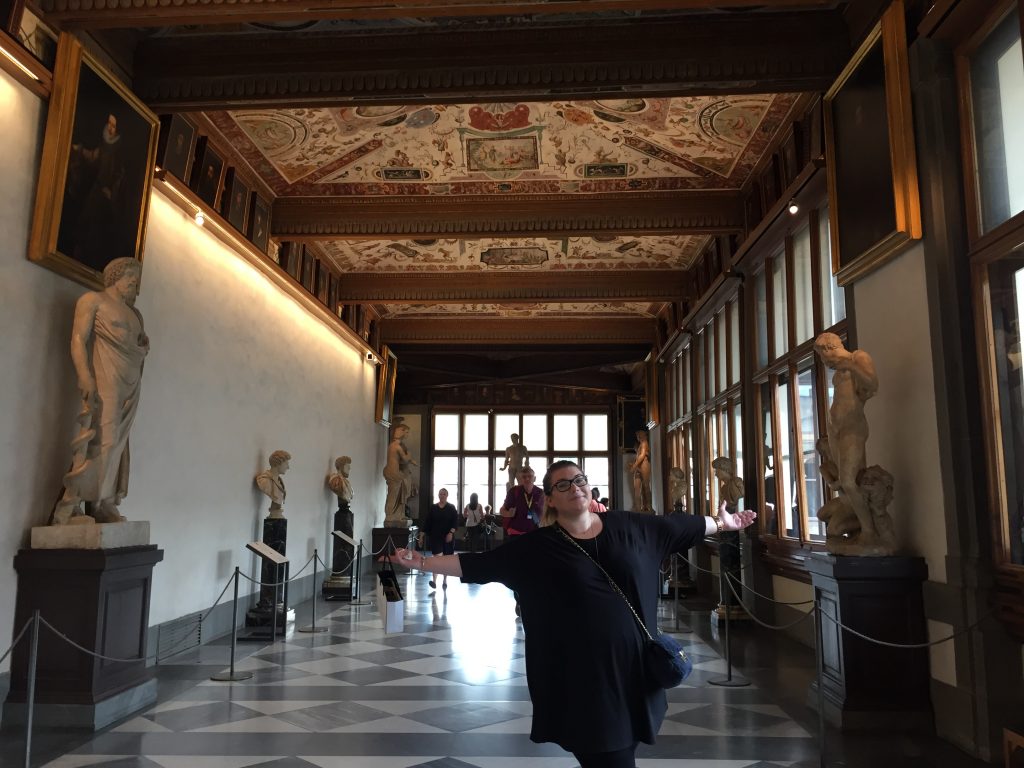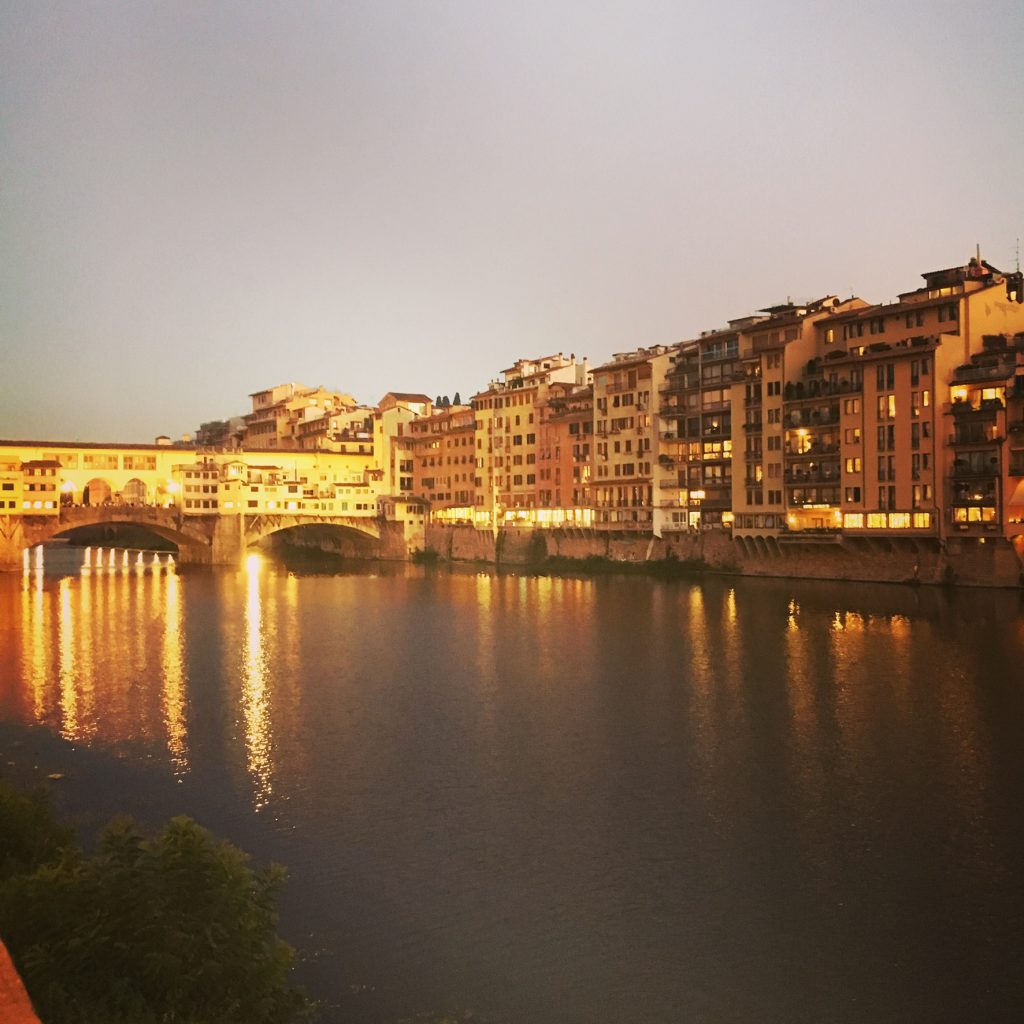 If you get the chance to skip the line, pay the extra cash and skip it. Or take a tour guide. They are actually good, know their history and can get you into places faster than standing in a queue for hours.
Where to eat:
Florence means Pizza, Pasta and Steak. And more Pizza.
Mangia Pizza – you need to go there. It's incredible, I'm not kidding. Even if you have to wait for a table, it's worth it and you can have a drink outside while you wait. Via Lambertesca 24/26/R, near the Ponte Vecchio. They're open from 12 to 7 so maybe eat lunch there.
Chianineria / Trattoria dall'Oste – delicious steak and good wine. Via De' Cerchi 40/R, near the Duomo.
Osteria del Gatto e la Volpe – pasta to die for. Via Ghibellina 151/R.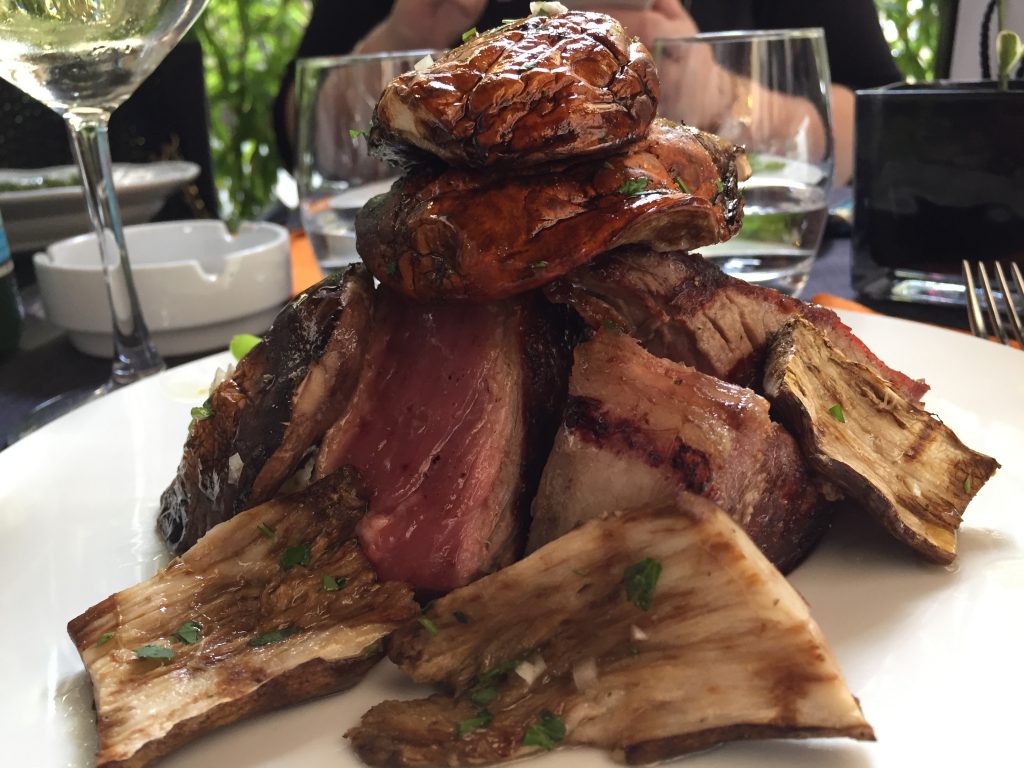 I picked out the best places we've eaten at, but to be fair, there is much more to try out in Florence. Sweets, ice cream, lamb chops. Trust your instinct and don't fall for tourist traps. If you see a checkered tablecloth, that is a family owned business and it's worth a try.

And where to go shopping?
If you want leather goods, Florence is the city for you. The best stores we found, where you get good deals on shoes and accessoires, were on our way to Palazzo Pitti, over the Ponte Vecchio. You have a leather market in the old town as well, check it out.
You will find all brands in the city. Quick tip, Chanel has a separate cosmetics store where you always get a discount and generous testers even if you don't purchase much. Check out the signature capsule perfume collection.
Michael Kors does discounts on site if they see you are unsure if making a purchase.
They have a Sephora…enough said.
On the way to the Palazzo Pitti you will find boutiques with cute clothes and generous discounts so don't rush into buying everything in the city.
If you book a wine tasting, they will offer you better prices for delicious wines so before you buy these in the city, buy from the locals directly.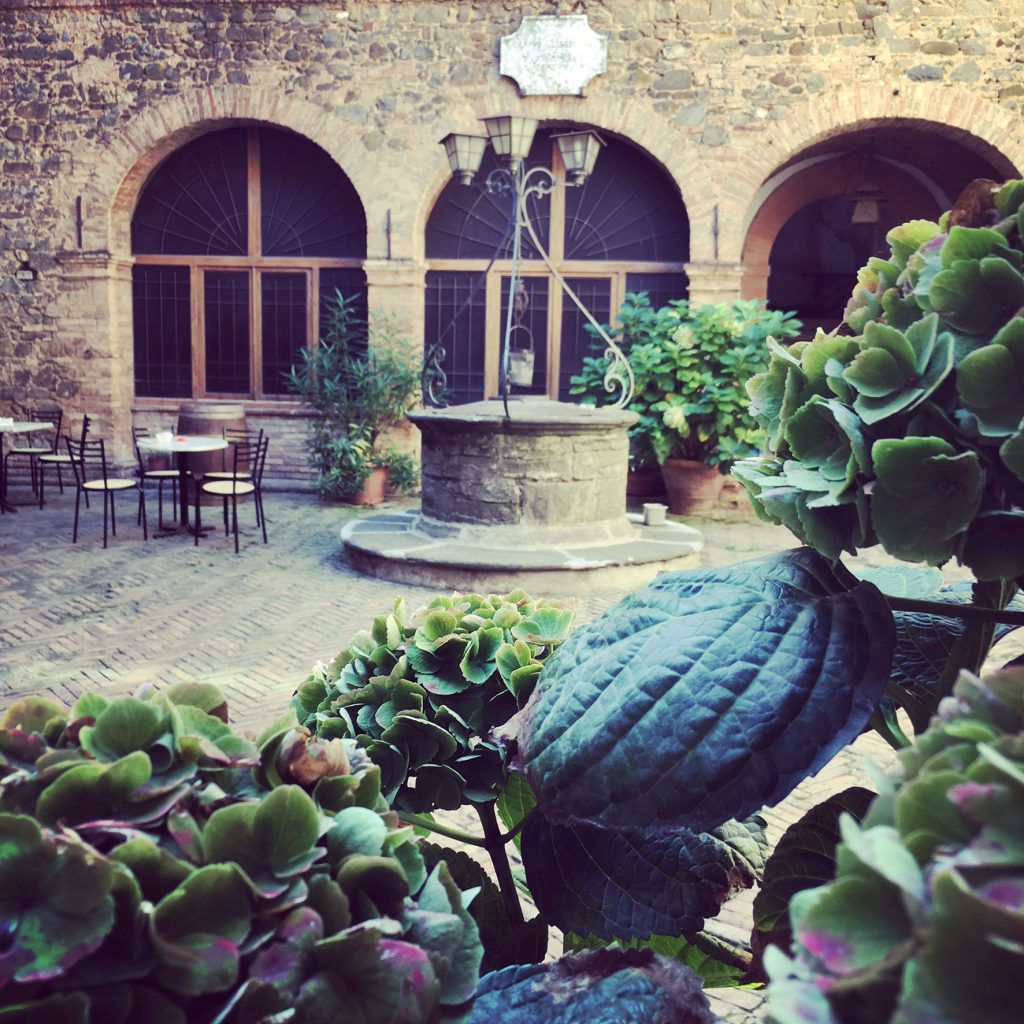 And how about going out at night?
La Terrazza Rooftop Bar – best view over the city, strong cocktails.
YAB Club – for a dancing experience.
Public House – for an eclectic taste.
Before finishing up this article, let me tell you something about the wine tasting we booked: we went to see Montepulciano and Montalcino in one day, that's how the itinerary went. You would think you get to sip from 3 wines and that's it…well it's not. We had a total of 12 glasses in two sittings. And I decided to go out and smoke a cigarette / call my parents to let them know I was drunk at 2 o'clock in the afternoon…on a hill in Tuscany…and I sat on a big rock, wanted to show my dad how beautiful it was over Facetime, and fell backwards in the grass, sloshed my wine all over me and landed in a nettle bush. Bum itching like crazy, I then got stuck in the bathroom and had to yell out for help. They found me drinking wine I bought from them out of the glass I managed to salvage, sitting on the toilet lid and scratching my behind. I keep telling everybody I'm such a classy girl, they just won't take me seriously.
So my dear readers, visit Florence, have some wine, eat some pasta and have some more wine. That's what vacations are for. Kisses